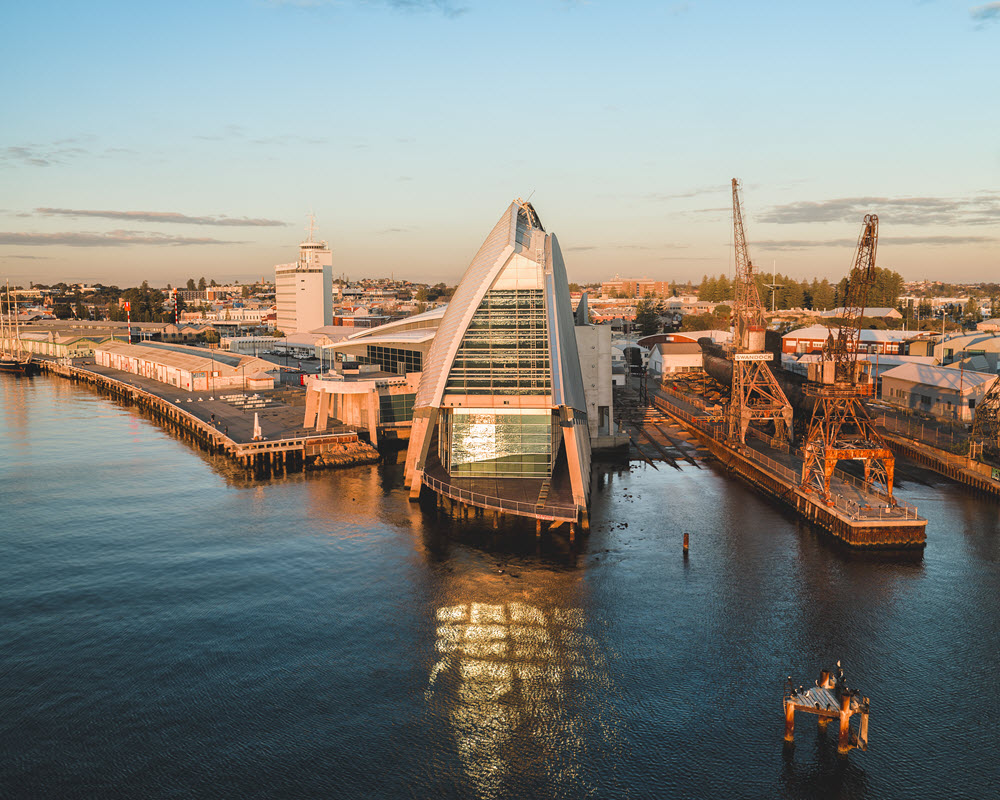 Starting with Fremantle Ports' annual Maritime Day on Saturday 2 November, a huge program of fun, entertainment, exhibitions and interest is promised at the Victoria Quay waterfront this summer.
Fremantle Ports CEO Chris Leatt-Hayter said that a second program of Quay to Summer events was being held following the success of last summer's inaugural program.
"Last year we offered a diverse mix of activities for people of all ages at Victoria Quay, one of Western Australia's most historic and fascinating locations.
"We created a program offering lots of different opportunities for locals and tourists to come down to the port and connect to this place that features so prominently in the history of our State.
"People responded to the opportunities offered by the markets, food truck nights and movie nights to enjoy the wonderful backdrop of the working port and atmospheric B Shed, built as a cargo shed in 1926.
"This year, we are building on those events and offering new events. Plus, Victoria Quay is playing a major part in the Fremantle Biennale Undercurrent 19 and, in partnership with the WA Museum, it is the site of a wonderful exhibition on containers."
The program of events at Victoria Quay this summer includes:
Fremantle Biennale Undercurrent 19, 1-24 November: A number of the artworks, installations and events are on Victoria Quay and South Mole.
Fremantle Ports Maritime Day, 10am-4pm Saturday 2 November: Come down to the port for more than 90 displays across Victoria Quay, in B Shed and on the water.
Container exhibition, 2 November - 14 April: Presented by the Western Australian Museum in partnership with Fremantle Ports and the Freight and Logistics Council of WA, Container – the box that changed the world is an interactive, solar-powered exhibition displayed in six colourful, modified sea containers.
Fremantle Chamber Orchestra concert, B Shed, 3pm 10 November: Conducted by Rebecca Glorie, the strings of the orchestra present Vivaldi to Mozart to Strauss, a full program of rarely heard works by Albinoni, Vivaldi, Purcell, Pachelbel, Mozart, Strauss and Bartok.
Jungle Collective mega plant sale, B Shed, Saturday 30 November and weekend 1-2 February: B Shed will be full of rare, unusual and hard-to-find decorative plants.
Victoria Quay Christmas Carnival, 3-9pm Saturday 7 December: Bring the family and take a thrilling carnival ride and meet Santa at the new and free Christmas Carnival which has something for the whole family.
The Dock pop-up bar in B Shed, 13 December continuing into 2020: Enjoy a drink while watching the passing ships from the wharf alongside B Shed or through B Shed's huge cargo doors.
Victoria Quay Movie Marathon, B Shed, 10-18 January: Grab some popcorn and watch a classic, family-friendly film for free from the comfort of a beanbag.
Victoria Quay Traders Market, Saturday 1 February: This huge market will bring together craft, art, food, plants, entertainment and plenty of kids' activities.
Victoria Quay Food Truck Sundays, Sundays 9, 16 & 23 February: Dine out on tasty dishes from around the world from your favourite food trucks.
Paint the Port, Saturday 14 March: Come down to Victoria Quay and paint, draw or photograph the port.
E Shed Markets, Fridays to Sundays: With its amazing array of things to buy and places to eat, E Shed Markets will be trading as usual throughout the summer.
Parking is available on site and Victoria Quay is a short walk from Fremantle Train Station and bus terminal. A dual-use path runs through Victoria Quay and bike racks are available.
Your visit
Explore what's on at Victoria Quay and start planning your visit by 'starring' the attractions, events, walks or anything else that interests you.
See what's on