Bus and train
Victoria Quay is adjacent to the Fremantle Train Station and bus terminal. See Transperth to plan your journey to Victoria Quay by public transport.
Fremantle CAT bus (free)
The Fremantle CAT (Central Area Transit) buses are painted orange. They currently run on one route, the "blue" route which travels from the Fremantle CBD to South Fremantle. The bus stop nearest to Victoria Quay is near the corner of Phillimore and Cliff streets. The blue CAT services run every 20 minutes. The service runs seven days a week, except on Good Friday, Christmas Day and Boxing Day. All Fremantle CAT buses are modern and high–tech, complying with the stringent EURO2 emission standards. They are easily accessible with kneeling actions – a driver-activated entry ramp and low floor. To board, simply wait at any CAT stop shown on the Fremantle CAT timetable.
Walking
Victoria Quay is a short stroll from the Fremantle CBD and adjacent to the historic West End of Fremantle. You can walk here along the dual-use path from the south and enter via Cliff Street or the pedestrian rail crossing just west of the Fremantle Train Station. There are also a number of Fremantle self-guided tours available that include Victoria Quay and the Fremantle CBD which will ensure you don't miss any of the many sites and attractions. See Fremantle Walking Trails.
Cycling
A cycle path leads to Victoria Quay and South Mole from the south. Cyclists can cycle through Victoria Quay to depart through Gate 2 (or vice versa).
Parking
Victoria Quay has a number of paid parking areas that offer parking for up to four hours, a full day or multiple days.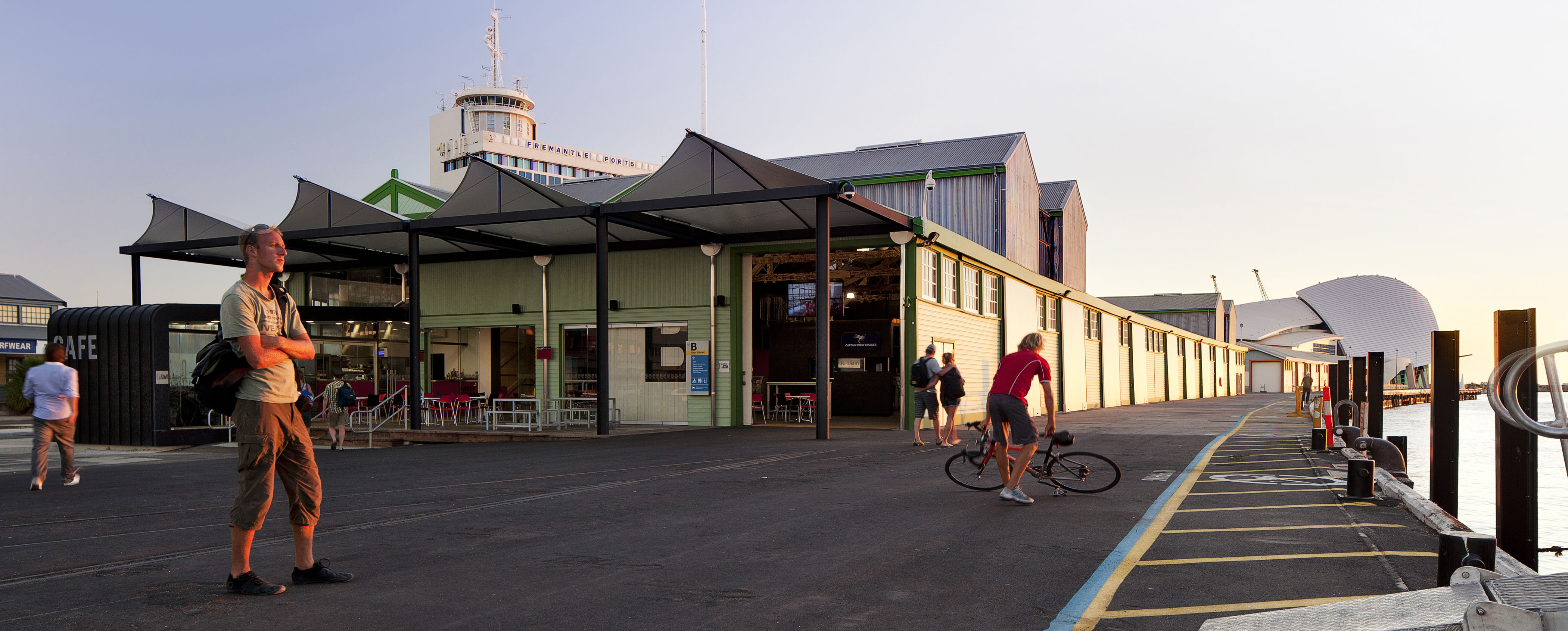 Accessibility
Parking: Free ACROD parking bays are located at various spots around Victoria Quay. There is also free parking for Companion Card holders (must be displayed on dashboard).
Ramps and building access: Disabled access ramps are available for access into E Shed and B Shed, as well as at Fremantle Ports' Administration Building and the WA Maritime Museum.
Toilets: Disabled access toilets are located at B Shed and E Shed.
Free Fremantle CAT bus: The orange CAT buses that call near Victoria Quay are fully accessible, with vehicle-kneeling action at the kerbside, a driver-activated ramp and low-floor design for disabled access.
Your visit
Explore what's on at Victoria Quay and start planning your visit by 'starring' the attractions, events, walks or anything else that interests you.
See what's on