Victoria Quay parking
Victoria Quay is busy during the summer months and even more so on public and school holidays. Ferry passengers are advised to arrive early to secure parking, or consider delivering luggage and to then arrange public transport or ride-share for ferry passengers.
Fremantle Passenger Terminal parking
Please note there is no overnight parking at the Fremantle Passenger Terminal.
Due to operational and security requirements, the parking area in front of the Fremantle Passenger Terminal building has been designated for the convenience of passengers for set down and pick-up only. Overnight parking is not available in front of the Passenger Terminal. Any vehicle left unattended after the sailing of a cruise vessel will be subject to an immediate fine and may be towed.
Long-term parking
There is long-term parking at Victoria Quay (Zone 3 dedicated all-day parking areas) near C and D Sheds. It costs $10 a day (plus 0.8% surcharge for credit/debit cards). Please note this parking is not undercover nor is it secure and it is in demand.
Pay for parking on arrival - Pay for the number of days at the ticket machine by entering your vehicle registration (maximum 14 days - you will need to purchase 12 days in one transaction and, in a separate transaction, purchase an additional 2 days).
Cruise or ferry passengers seeking secure, undercover, long-term parking can park at Kings Square Car Park, 22 Henderson St, Fremantle. More information is available from Secure Parking.
Motorcycle parking
There are designated parking bays for motorcycles near the eastern end of B Shed (near the cafe) and near the eastern end of E Shed. These bays are free and have no time limit for motorcycles. If you park a motorcycle in a car bay you need to pay the relevant parking fee and adhere to the time limit.
Disabled parking
There are parking bays for people with ACROD permits throughout Victoria Quay. If you have an ACROD permit and these bays are full, you may park for free in a standard bay. You can also park for free if you display a Companion Card on your dashboard.
i-Park
Don't worry about finding loose change and don't pay for parking you don't use! Victoria Quay is an i-Park station! Visit i-Park and please note that Victoria Quay is Parking Zone # 6388.
Parking inquiries and machine faults
All parking on Victoria Quay is managed by Wilson Parking and the sites are patrolled regularly by parking Enforcement Officers. Vehicles are subject to the terms and conditions displayed throughout the car park areas.
See the Victoria Quay map for parking area information.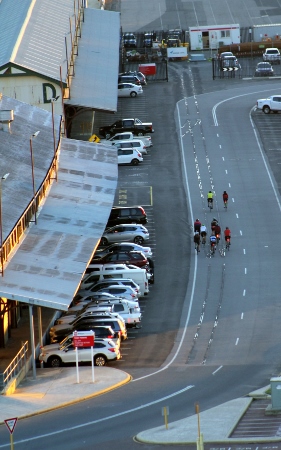 More parking information
Wilson Parking

+61 1300 306 933
Your visit
Explore what's on at Victoria Quay and start planning your visit by 'starring' the attractions, events, walks or anything else that interests you.
See what's on