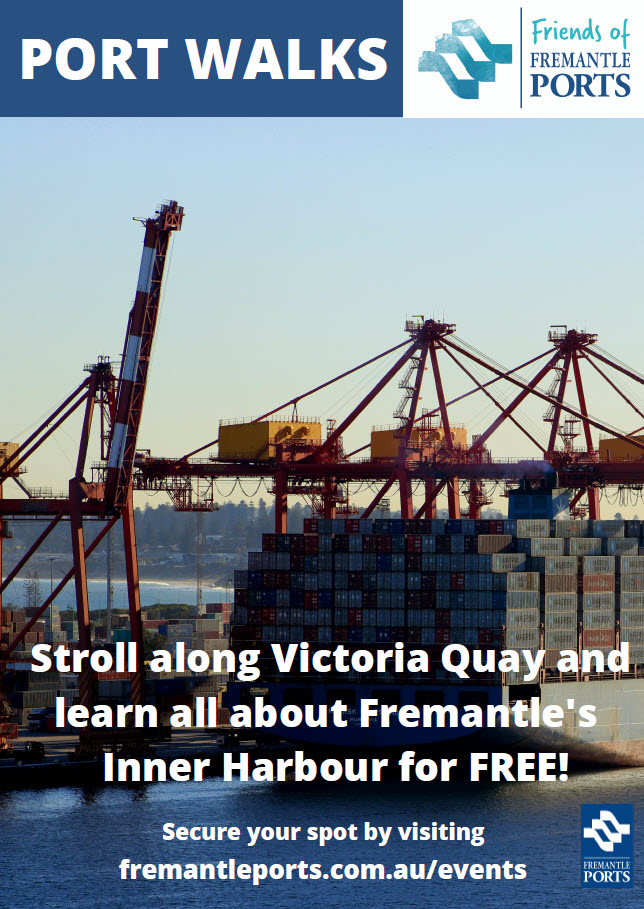 Join one of Fremantle Ports' one-hour free Port Walks. Stroll around Victoria Quay and listen as port experts tell you about different aspects of Fremantle Inner Harbour. The 'General' walk includes history, landside logistics, trade, port engineering, shipping and the environment.

Bookings are available for individuals or community or education groups. If you wish to book in a group, go to the links provided below or call 9430 3555. Places are limited and you must RSVP. The starting place for all Port Walks is the CY O'Connor statue outside the Fremantle Ports Administration Building, on Victoria Quay.
Book here for:
Friday 23 April 10am

Tuesday 4 May 9am - CY O'Connor special Port Walk, celebrating the anniversary of the opening of the Inner Harbour, hosted by Mike Lefroy
Friday 7 May 10am
Friday 14 May 10am
Friday 21 May 10am
Friday 28 May 10am
If you would like to book in your community group or education group for a Port Walk during the year call 9430 3555.
Your visit
Explore what's on at Victoria Quay and start planning your visit by 'starring' the attractions, events, walks or anything else that interests you.
See what's on