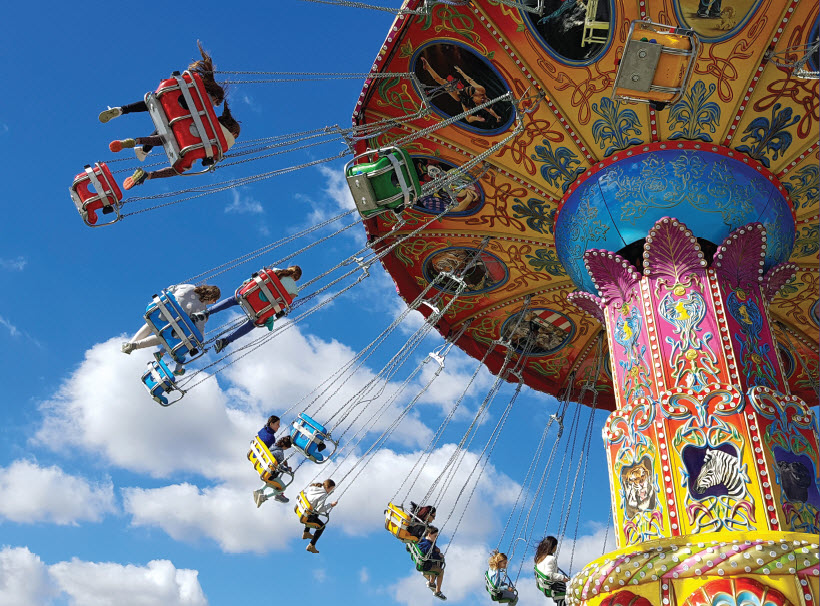 Get into the Christmas spirit at Fremantle's premier dockside location, Victoria Quay on Saturday 7 December at the new and free family Christmas Carnival from 3-9pm.

This fun-packed carnival of rides, live music, food and family-friendly entertainment is part of the Quay to Summer program that runs through until March.

Have a free ride on the Dream Swinger! With 360-degree views, you will reach for the stars, soaring 12 metres into the air and then dip down along with the rides oscillating crown. You'll be fascinated and amazed with the Dream Swinger's dazzling eye-catching light show and incredible hand-painted murals. The Dream Swinger is exciting and safe. with powered seats and a dual-locking rider restraint system.
Kids will enjoy an Elf Show, skate workshops, face painting, giant bubbles and, of course, a visit from Santa himself, while big kids can grab a bite to eat from a selection of food trucks, browse market stalls, groove along to the sounds of WA Samba and take in great roving performances ‑ all set against the stunning backdrop of the working port.
"We are delighted to be able to bring the magic of Christmas to Victoria Quay in this new Quay to Summer event, which is free for everyone," said Fremantle Ports CEO Chris Leatt-Hayter.
"It's a fun way to invite the community to come along and discover Victoria Quay and all of its unique aspects," he said.
The Quay to Summer program of events at Victoria Quay now and in the months ahead includes:
Victoria Quay Christmas Carnival, 7 December, 3-9pm. Free family-friendly event featuring rides, live music, food and roving entertainers.
Container free travelling exhibition, 2 November - 14 April: Presented by the Western Australian Museum in partnership with Fremantle Ports and the Freight and Logistics Council of WA, Container – the box that changed the world is an interactive, solar-powered exhibition displayed in six colourful, modified sea containers, spread across the western end of Victoria Quay. Open daily.


Jungle Collective mega plant sale, B Shed, Saturday 30 November and weekend 1-2 February: B Shed will be full of rare, unusual and hard-to-find decorative plants.


The Dock pop-up bar in B Shed, 13 December continuing into 2020: Enjoy a drink while watching the passing ships from B Berth, or admire the harbour through B Shed's huge cargo doors.


Victoria Quay Movie Marathon, B Shed, 10-18 January: Grab some popcorn and watch a classic, family-friendly film for free, from the comfort of a beanbag.


Victoria Quay Traders Market, weekend 1-2 February: This huge market will bring together craft, art, food, plants, entertainment and plenty of kids' activities.


Victoria Quay Food Truck Sundays, selected Sundays in February: Dine out on tasty dishes from around the world from your favourite food trucks.


Paint the Port, weekend 14-15 March: Come to Victoria Quay and paint, draw or photograph the port.


E Shed Markets, Fridays to Sundays: With its amazing array of things to buy and places to eat, the E Shed Markets will trade as usual throughout the summer.
When did you last visit Victoria Quay?
Your visit
Explore what's on at Victoria Quay and start planning your visit by 'starring' the attractions, events, walks or anything else that interests you.
See what's on