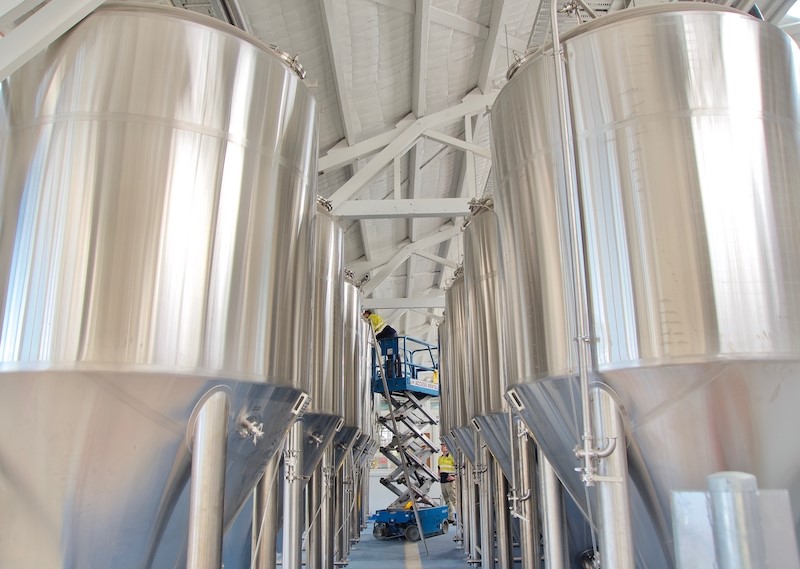 New brewing tanks inside A Shed (photo courtesy Roel Loopers)
Fremantle Ports said today the new Gage Roads microbrewery in historic A Shed on Victoria Quay would open the public's eyes to the charm of the port.
Soon to open, the new public attraction has seen the heritage-listed goods shed lovingly refurbished and transformed.
"A Shed is going to be the hot-ticket food and drink destination from January and we're delighted with the heritage interpretation achieved by Gage Roads and builders ICS Australia," said Fremantle Ports' Manager Corporate and Community Relations Neil Stanbury.
"Fremantle has one of the last remaining complete sets of early 20th century port cargo sheds in the world and Gage Roads has done an outstanding job preserving all of A Shed's features during development, which was essential," Mr Stanbury said.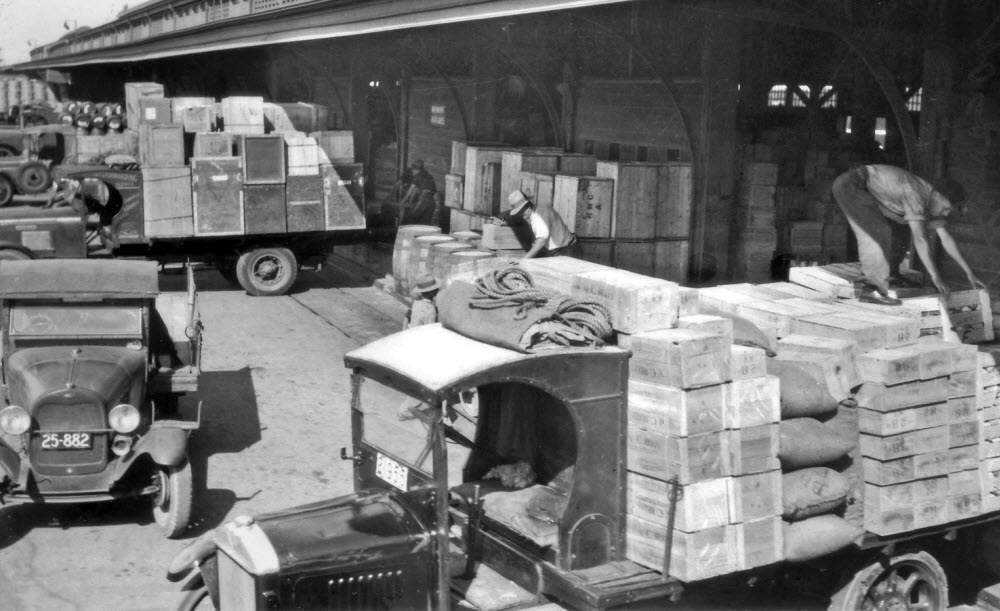 Trucks loading at A Shed, Victoria Quay in the 1930s
A Shed was leased by Fremantle Ports to Gage Roads at the beginning of this year, with one requirement being the appointment of a heritage architect. Fremantle Ports had also provided guidance and assistance throughout the planning and build phases.

"Before Gage Roads moved in, we completely replaced the steel sheet-pile wall beneath the shed which separates the harbour waters from the land. Most people don't realise all the heritage cargo sheds are half over the harbour waters," he said.
"Fremantle Ports also carried out significant maintenance work on the adjacent wharf apron, sympathetic structural repairs to the shed's timber frame and footings and ran new services to the building."
"From our stores, we gifted Gage Roads 100-year-old sections of jarrah timber saved from previous shed works, so builders could maintain absolute integrity with their fit out.
"Some of that jarrah will end up being featured on bar tops, while other lengths were used to replace roof timbers and repair old cargo doors, which is terrific," Mr Stanbury said.
Inside, Gage Roads was required to retain the historic supervisor's shed (a shed within a shed) which will become a unique tasting room - a far cry from the role it performed for wharfies, tally clerks and customs officers in decades gone by.
Fremantle Ports will next week begin installing new wayfinding signage across Victoria Quay. Improvements to amenities and pedestrian connectors are scheduled for the first half of next year.
"Gage Roads' development is a game-changer for the atmosphere and success of Victoria Quay as an activated public space, with more to come in the future," Mr Stanbury said.
Premier Mark McGowan and Ports Minister visited A Shed today (see the media statement).

Background information:
Fremantle Ports will carry out a similar pre-development structural refurbishment of C Shed mid-next year.
B Shed was restored in 2010 and houses ferry terminals, offices and a workshop for the sail training ship Leeuwin and is also a community event space.
D Shed is also very historic but remains in operational use, housing WA's oil-spill equipment and supplies.
E Shed was relocated away from E Berth in the 1980s and is now a market.
Your visit
Explore what's on at Victoria Quay and start planning your visit by 'starring' the attractions, events, walks or anything else that interests you.
See what's on