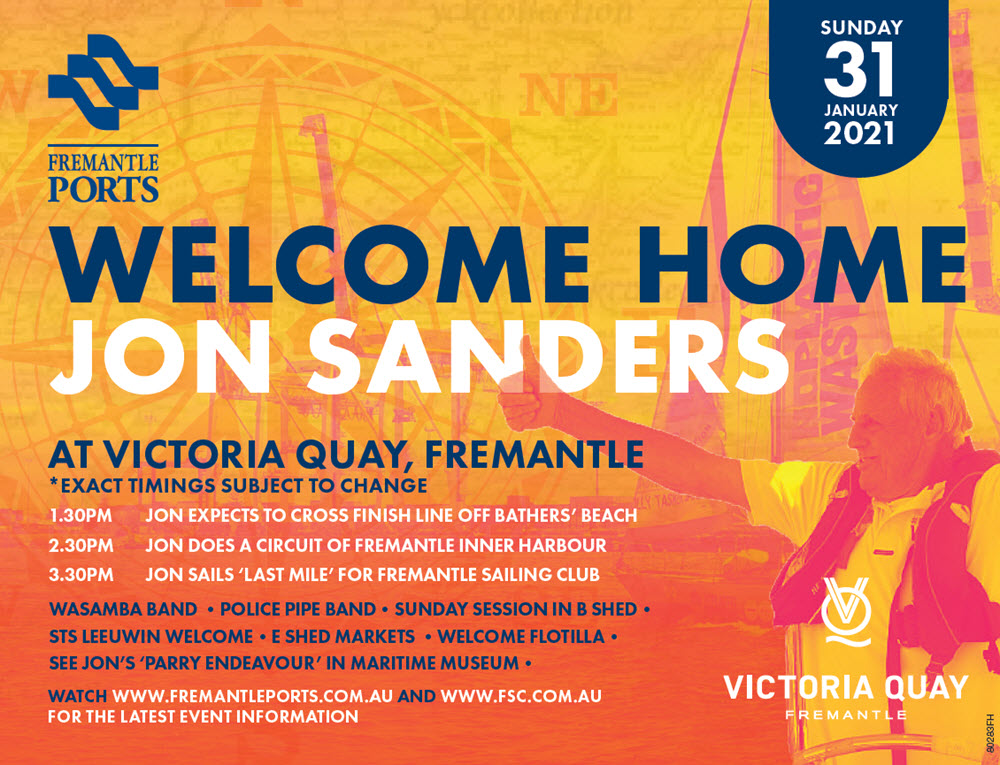 Intrepid solo sailor Jon Sanders (81) will end his 11th circumnavigation of the globe just outside the Fremantle Inner Harbour about 1.30pm on Sunday 31 January, then do a victory lap of the Inner Harbour from 2.30pm.
You're invited to Victoria Quay to watch Jon's victory lap! There will be entertainment and other activities, including the first
Sunday Session at B Shed
and E Shed Markets.
During the
'No Plastic Waste' voyage
, Jon has been filtering ocean water daily from his yacht
Perie Banou II
for microplastic analysis at Curtin University.
After the victory lap, Jon will sail to Fremantle Sailing Club, where he started his journey in November 2019.
Other highlights:
- Carnival drummers
Wasamba
and the WA Police Pipe Band will be playing at Victoria Quay.
- STS Leeuwin II will return to the harbour and its home at B Berth at about 1pm.
- Fremantle Ports will conduct a special 'Port Walk' with an emphasis on Jon Sanders' achievements, featuring Mike Lefroy, from Museums Without Walls. Mike is well known as former education officer for the HM Endeavour Foundation and former Head of Education at the WA Maritime Museum. (Book
here
.)
In 1986-87, Jon was the first person to sail consecutively three times around the world alone. He was the first to circumnavigate Antarctica solo, among a myriad of other achievements. The yacht in which he accomplished the triple-circumnavigation,
Parry Endeavour
, is on display in the WA Maritime Museum.
Your visit
Explore what's on at Victoria Quay and start planning your visit by 'starring' the attractions, events, walks or anything else that interests you.
See what's on