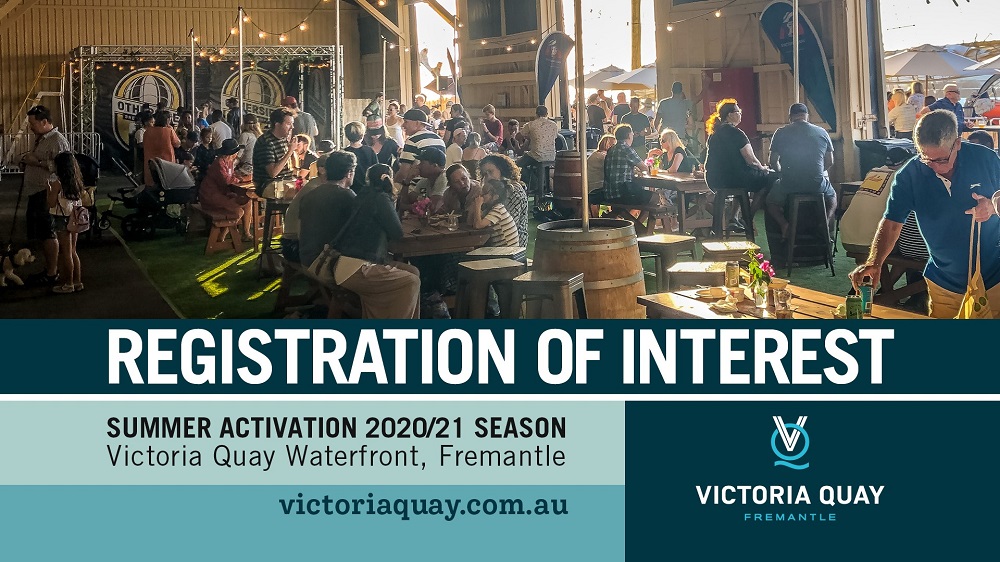 Fremantle Ports is seeking Registrations of Interest (ROI) from promoters, event companies, entertainment or community groups to activate B Shed and/ or components of the Victoria Quay Waterfront for this summer 2020-21.
During the summers of 2018-19 and 2019-20, Fremantle Ports delivered a focused Place Activation Program of events and activities that brought Victoria Quay to life.
The 'Quay to Summer' program included children's school holiday activities, markets, food, events, movies and a pop-up bar.
Another exciting activation for Victoria Quay is the transformation of A Shed into a family-friendly microbrewery by Gage Roads Brewing Co.
This will include a restaurant and bar attached to the brewery, plus al fresco seating and a children's play area. Construction begins in October, with the venue expected to open in summer 2021-22.
B Shed
B Shed is one of Fremantle Ports' most unique assets, strategically located at the centre of Victoria Quay, and highly visible from both Cliff Street and the waterways of the harbour.
Built in 1926 as a general cargo shed, B Shed was refurbished in 2010, gaining a State Heritage Award in 2011. The fit-out features a contemporary architectural addition in the form of a café and office/tenantable spaces.
Currently, B Shed has a café and two ticketing offices for the two Rottnest ferry operators, Rottnest Express and Sealink.
As a result, B Shed experiences considerable visitation, particularly during the summer months when ferries operate from morning until night.
The refurbishment also involved the restoration of the central space, which is now made available for event hire.
This event space offers over 850m² of interior space, with a wharfside area of 150m² accessible through the heritage doors.
The space benefits from drive-in access, 14 toilets, and proximity to over 500 paid car parking bays as well as the Fremantle train and bus station.
B Shed is a unique space, unrivalled within the Perth event space market in its proximity to the water and heritage aesthetic.
Currently, the event space can be hired for corporate functions, galas, dinners, product launches, trade shows and exhibitions, fashion festivals and various other events.
Recent events and activations hosted in the B Shed, as part of the Quay to Summer program, included a pop-up plant sale, a pop-up bar, South Metro TAFE graduate fashion show and a Maritime Movie festival.
Registrations of Interest
Fremantle Ports invites Registrations of Interest for activation which will add to the existing attractions, events and tourism experiences that Victoria Quay offers.
We are seeking innovative, vibrant proposals to activate this area in line with our activation objectives.
For summer 2020-21, Fremantle Ports are looking for activation proposals which may include high-quality food and beverage offerings (with consideration given to the existing café tenancy and their offer), children's events and workshops, music events, and movies.
Proposals must consider the activation of B Shed in a relaxed, all ages, friendly approach.
Proposals may be one-off events, a series of events, or an ongoing program or pop up.
Activation concept(s) which take inspiration from the port and waterfront location are encouraged but this is not a requirement.
This includes proposals for 'pop-up' bars, food vendors, fashion, arts and entertainment events, or other proposals, with a priority for activations with a family-friendly approach.
Closing date for ROIs is
5pm Monday 14 September 2020
.
Find out more information in the
FremantlePorts_ROI_Victoria Quay summer 2021
brochure.
Your visit
Explore what's on at Victoria Quay and start planning your visit by 'starring' the attractions, events, walks or anything else that interests you.
See what's on