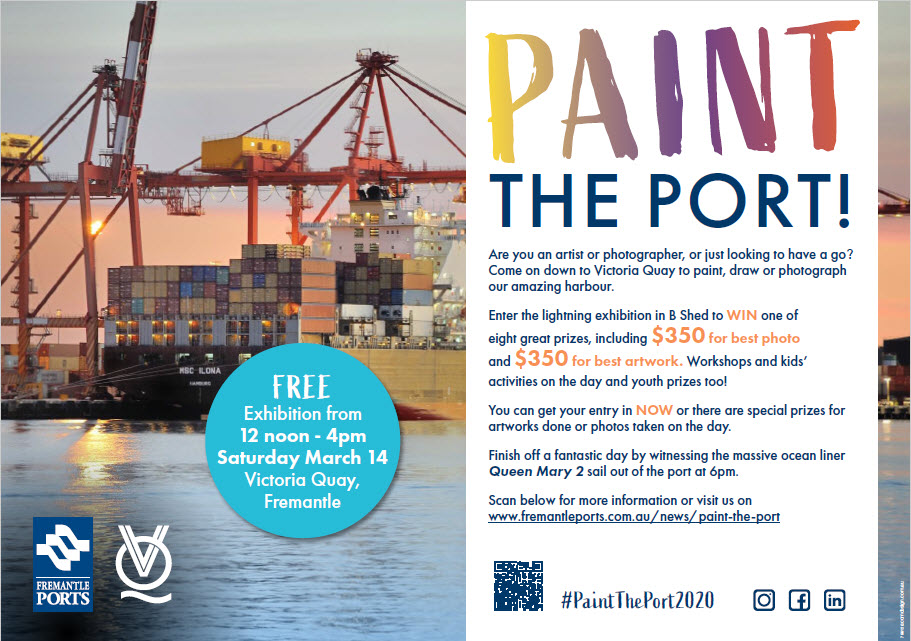 Have you ever wanted to try your hand at painting, drawing or taking a fantastic photo of the port?
Then get on down to Victoria Quay, Fremantle Port for Fremantle Ports' first Paint the Port Community Day on Saturday 14 March.
Fremantle Ports is proud to announce this fantastic, free event running from noon until 4pm.
Coinciding with the arrival of ocean liner Queen Mary 2, Fremantle Ports is running an art contest and pop-up art gallery celebrating all things maritime, with prizes for photographs, paintings and drawings of Fremantle Port.
There'll be no lack of subject material with container ships, pilot boats, port infrastructure, people, marine life, wharves, moles, lighthouses, bollards and cranes on view. The competition is open to people of all ages so come down to the port and get involved.
Great prizes include $350 cash for the best overall photograph and $350 for the best overall artwork, with more prizes, including special 'on the day' submission prizes.
There will also be heaps of kids' activities, including a workshop with esteemed Fremantle artist Angela Rossen.
Kids can create their own colourful maritime flag to wave at the magnificent Queen Mary 2 as it leaves Fremantle Inner Harbour. Download the flag here, print it out in A3, paint/colour it, and bring it down to the port.
So why not come down to Victoria Quay on Saturday 14 March and have a look at the gallery?
You can even submit your own entry on the day for a chance at winning a prize yourself.
For more information on how to register and enter the competition, see the Paint the Port Art and Photography Competition.

#painttheport2020

Photos submitted via social media using the hashtag #painttheport2020 will be displayed on our website social media feed, and displayed within B Shed at the Paint the Port Community Day.

Got some questions? Have a look at our Paint the Port FAQs.
Your visit
Explore what's on at Victoria Quay and start planning your visit by 'starring' the attractions, events, walks or anything else that interests you.
See what's on