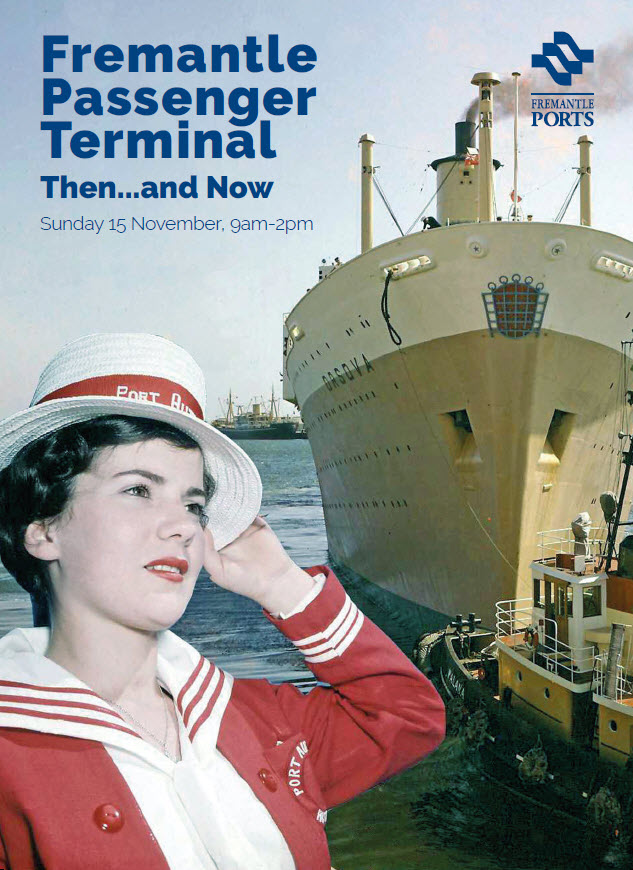 Fremantle Passenger Terminal Then and Now open day
Sunday 15 November 9am-2pm
Free event, no booking required
Free parking at the Fremantle Passenger Terminal
15-minute walk from the Fremantle Train Station

This is your chance to see this iconic building, which was opened in two stages in 1960 and 1962.

The two-level Fremantle Passenger Terminal was designed in what is known as the Post War International Style. This is characterised by simple, functional, largely unadorned structures with open spaces, large areas of glass and an emphasis on steel and concrete in the building materials.

Architectural firm Hobbs, Winning and Leighton were the consulting architects for the terminal in association with the Fremantle Harbour Trust. The builders were the Fremantle Harbour Trust and AT Brine and Sons, with 22 subcontractors involved.

The two-level building is of steel-framed construction with concrete panels. The upper floor is timber parquetry and Western Australian hardwood timbers were used extensively in the interior.

The first stage, servicing F Berth, was opened in December 1960 by the Premier, the Hon David Brand MLA. Between then and completion of Stage 2 at G Berth in May 1962, more than a quarter of a million passengers passed through the terminal.

The building is still the largest of its kind in Australia and at the time of being built was the only passenger terminal in Australia with two-berth capacity. It was built for dual-purpose usage with capacity for cargo handling as well as servicing passenger needs.

The building features Western Australian artist Howard Taylor's flora and fauna art works commissioned for the terminal.

Find out more about the Fremantle Passenger Terminal here.

There is free parking at the terminal or you can walk from the Fremantle Train Station.

This is a free event and no bookings are required. Just turn up on the day!
Relive your migrant arrival moment
Tours of the building
Australian Border Force detector dogs
Meet the Harbour Master
Photos and memorabilia
Record your migration story for posterity
Photography tips and tricks with Fremantle Camera Club
Vintage-inspired fashion parade
Music, morning tea, genealogy and more!
Your visit
Explore what's on at Victoria Quay and start planning your visit by 'starring' the attractions, events, walks or anything else that interests you.
See what's on